HISTORY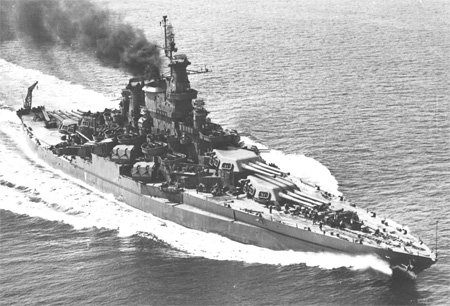 USS California (BB-44), one of two Tennessee-class battleships completed shortly after World War I, was the fifth ship of the United States Navy named in honor of the 31st state. She was the last American battleship built on the West Coast, and the only one to be a dreadnought type. She served in the Pacific her entire career, and for twenty years was the flagship of the Pacific Fleet. She was sunk in the attack on Pearl Harbor at her moorings in Battleship Row, but was salvaged and reconstructed. She served again for the remainder of World War II before being decommissioned in 1947. She was sold for scrap in 1959.

Construction and early service years
Her keel was laid down on 25 October 1916 by the Mare Island Naval Shipyard at Vallejo, California. She was launched 20 November 1919 sponsored by Mrs. R.T. (Barbara Stephens) Zane, daughter of California governor William D. Stephens; and commissioned on 10 August 1921, Captain Henry Joseph Ziegemeier in command. She immediately reported to the Pacific Fleet as flagship.

For 20 years, from 1921 to 1941, California served first as flagship of the Pacific Fleet, then as flagship of the Battle Fleet (Battle Force), US Fleet. Her annual activities included joint Army-Navy exercises, tactical and organizational development problems, and fleet concentrations for various purposes. Intensive training and superior performance won her the Battle Efficiency Pennant for 1921 and 1922, and the Gunnery "E" for 1925 and 1926.
In the summer of 1925, California led the Battle Fleet and a division of cruisers from the Scouting Fleet on a good-will cruise to Australia and New Zealand. She took part in the Presidential reviews of 1927, 1930, and 1934. She was modernized in late 1929 and early 1930 and equipped with an improved anti-aircraft battery of eight 5 in (130 mm)/25 cal guns replacing the earlier 3 in (76 mm) guns. Also, the elevation of the ship's 14-inch guns was increased for improved range.

In the mid-to-late-1930s, California and the 14 battleships of the United States Fleet were stationed in San Pedro, California. During that time, they participated in numerous fleet exercises taking them up and down the West Coast, to Hawaii, and in 1939 through the Panama Canal, to Cuba, to New York City for the 1939 World's Fair.
California was also active in sports competitions. Along with other Pacific Fleet battleships, her crew competed for the Navy Department General Excellency Trophy for Capital Ships of the Pacific Fleet – which because of its design quickly became known as the "Iron Man Trophy". Since 1919, the capital ships competed for this coveted award, which was awarded by COMSERVPAC on a system of points figured on the basis of participation and standings of athletic teams of ships of the Fleet. California was first awarded the "Iron Man" in 1924 and held it for three years. In 1939, California won the "Iron Man" for the last time with a total score of .733 to beat out New Mexico. During those years the competition for the "Iron Man" was fierce among the capital ships of the Pacific Fleet, until most of them were re-assigned to Hawaii in May 1940 after Fleet Problem XXI due to the growing concerns with relations with Japan. Competition for the trophy was suspended during the war, and was not revived until 1948, after California was out of commission.

California was one of six ships to receive the new RCA CXAM radar in 1940.

World War II

On 7 December 1941, California was moored at the southernmost berth of Battleship Row and was with other dreadnoughts of the Battle Force when the Japanese launched their aerial attack. Watertight integrity had been impaired by preparations for a material inspection; and the ship suffered extensive flooding damage when hit. One torpedo detonated below the armor belt between Frames 46 and 60, and a second detonated below the armor belt between Frames 95 and 100. At 0845, a 551 lb (250 kg) bomb entered the starboard upper deck level at Frame 60, passed through the main deck, and exploded on the armored second deck, setting off an anti-aircraft ammunition magazine and killing about 50 men. A second near miss bomb ruptured her bow plates. Smoke from fires started by the bomb hit caused evacuation of the forward engine-room at 1000 and ended pumping efforts to keep California afloat. After three days of progressive flooding, California settled into the mud with only her superstructure remaining above the surface. When the action ended, 100 of her crew were lost and 62 wounded. Machinist's Mate 1st Class Robert R. Scott was one of the sailors who lost his life on 7 December, refusing to leave his battle station, even as it flooded, "as long as the guns keep firing". Also killed was Chief Radioman Thomas Reeves who organized hand delivery of anti-aircraft ammunition when the equipment to lift it to the guns was knocked out. He was overcome by smoke and fire below decks while leading this effort. Both men were awarded the Medal of Honor posthumously for their heroism and Destroyer Escorts USS Reeves (DE-156) and USS Scott (DE-214) were named in their honor.

On 25 March 1942, California was refloated and dry-docked at Pearl Harbor for repairs. On 7 June, she departed under her own power for Puget Sound Navy Yard where a major reconstruction job was accomplished, including improved protection, watertight compartmenting, stability, antiaircraft battery, and fire control system. Her original twin funnels were combined into a single funnel faired into the superstructure tower as with the newer South Dakota class. The original 5 in (130 mm)/51 cal guns of the secondary battery and the 5 in (130 mm)/25 cal guns of the anti-aircraft battery were replaced by 16 5 in (130 mm)/38 cal guns in new twin mountings. Her appearance was nearly identical to that of Tennessee and West Virginia, which were rebuilt after the Pearl Harbor attack to resemble South Dakota-class battleships. Like her sisters, she was a virtually new ship built on the bones of the old.

As part of the two ocean navy policy, U.S. battleships had been designed within a beam constraint of 108 feet (33 m) in order to transit the Panama Canal; after their similar rebuilds, Tennessee, California and West Virginia were widened to 114 feet (35 m) feet, in effect limiting deployment to the Pacific theater.

California departed Bremerton, Washington on 31 January 1944 for shakedown at San Pedro, California, and sailed from San Francisco, California, on 5 May for the invasion of the Marianas. Off Saipan in June, she conducted effective shore bombardment and call fire missions. On 14 June, she was hit by a shell from an enemy shore battery which killed one man and wounded nine. Following Saipan, her heavy guns helped blast the way for the assault force in the Guam and Tinian operations from 18 July to 9 August. On 24 August she arrived at Espiritu Santo for repairs to her port bow damaged in a collision with her sister ship that was also present at Pearl Harbor with California, Tennessee.

On 17 September, California sailed to Manus to ready for the invasion of the Philippines. From 17 October to 20 November, she played a key role in the Leyte operation, including the destruction of the Japanese fleet in the Battle of Surigao Strait on 25 October. On 1 January 1945, she departed the Palaus for the Luzon landings. Her powerful batteries were an important factor in the success of these dangerous operations driven home into the heart of enemy-held territory under heavy air attack. On 6 January, while providing shore bombardment at Lingayen Gulf, she was hit by a kamikaze; 44 of her crew were killed and 155 were wounded. Undeterred she made temporary repairs on the spot and remained carrying out her critical mission of shore bombardment until the job was done. She departed on 23 January for Puget Sound Navy Yard, arriving on 15 February for permanent repairs.
California returned to action at Okinawa on 15 June, and remained in that embattled area until 21 July. Two days later, she joined Task Force 95 (TF 95) to cover the East China Sea minesweeping operations. After a short voyage to San Pedro Bay (Philippines) in August, the ship departed Okinawa on 20 September to cover the landing of the Sixth Army occupation force at Wakanoura Wan, Honshū. She remained supporting the occupation until 15 October, then sailed via Singapore, Colombo, Ceylon, and Cape Town, South Africa, to Philadelphia, arriving on 7 December. She was placed in commission in reserve there on 7 August 1946, out of commission in reserve on 14 February 1947, stricken on 1 March 1959, and sold for scrapping on 10 July 1959 to Bethlehem Shipbuilding Corporation, Sparrows Point, Maryland.