HISTORY
Source: Cummins Power Blog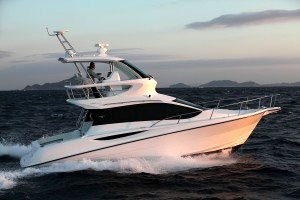 Toyota Motor Corporation is launching a new line of high-tech, high-end boats, the Ponam-35, and has tapped Cummins Onan to supply the boats' on-board generators.
The innovative, powerful Ponam-35, announced in September, is designed for pleasure cruising and fishing. It uses two 4.5 L V8 diesel engines sourced from the Toyota Land Cruiser. The boat features proprietary control technology for easier list correction and Toyota Drive Assist to enable mooring and casting off using a single joystick. The hull is made with a high-strength aluminum alloy, which ensures higher rigidity, strength, durability and fracture resistance, as well as reduced stress and vibration. The Ponam-35 starts at around $765,000.
Each Ponam-35 boat comes equipped with a 9.0 kW MDKBL generator from Cummins Onan. This model is part of the Quiet Diesel (QD) Series, the first marine generator sets with self-monitoring capability and networked communications.
Ken Uemura from Communication Science Corporation (CSC), Cummins Onan's official distributor in Japan, commented that "CSC is hoping the integration of the two premium brands will be a driving force of the marine boat industry not only in Japan but also in oversea market."
Michael Jones, General Manager of Cummins Onan Asia said that "The Ponam-35 is loaded with innovative high-tech features, and our 9 kW MDKBL generator fits that environment very well. We are delighted to be working with Toyota Motor Corporation on this exciting new venture."