Our model is hand-crafted from hard wood with planks on frame construction and then painted as the real boat. This model is not a kit and ready for display.
Item Code

Specifications

Packing Volume

CM0062P

87L x 28W x 23H (cm)

34.25L x 11.02W x 9.05H (inch)

0.107 m³ = 3.77 ft³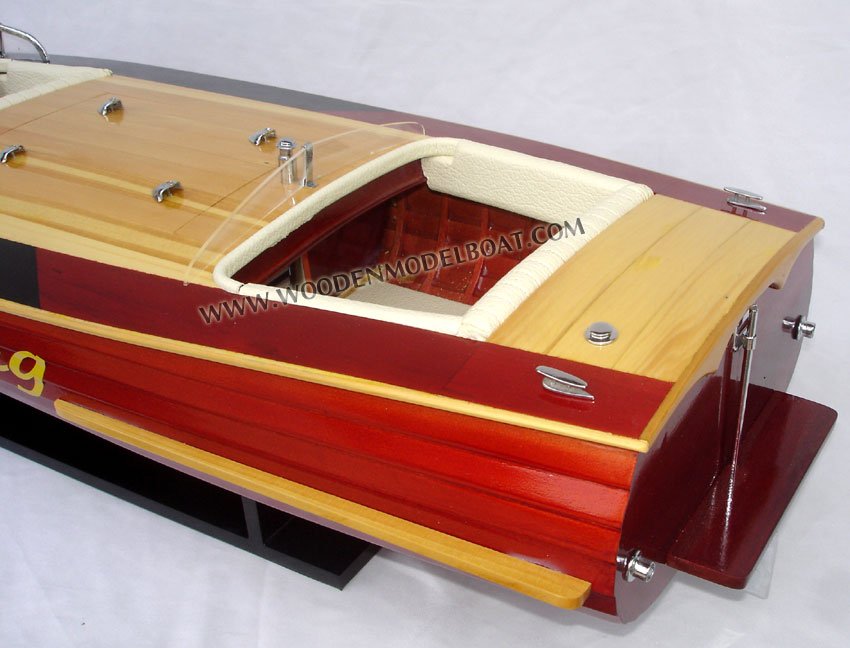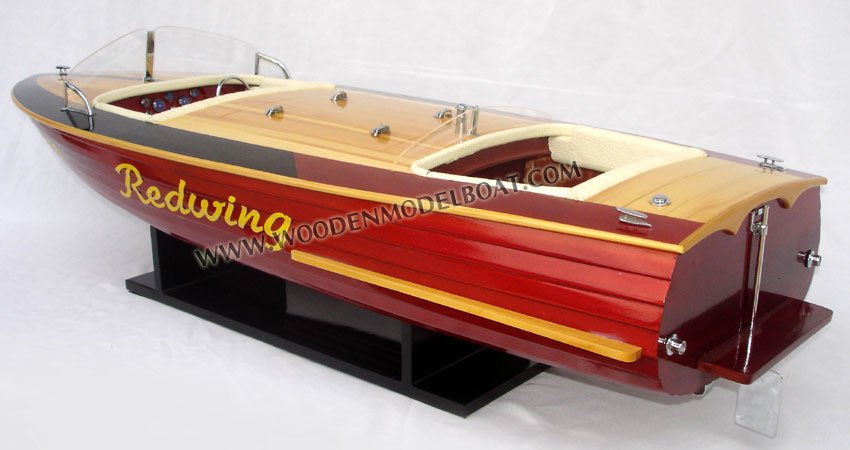 Model with reddish hull

The boat was made buy J newcombe in goowa, head of the murry river the story goes that a friend of his bought a lewis, boat in 1960, having not much interest in boats was taken buy the shape ad asked if he could mesure it up, he did and then went in too his shed and 4 weeks later pushed out this hull shape friends and folk were taken buy the shape handling and power she had a 318 chriseler pushing 300hp so people commissioned 4 of this hull shape of which langodon bonnythom commissioned one, he had difficulty too think of a name for her, on the way home he herd a country western song redwing, was taken buy the name and decided too call her redwing, J necombe made 15 boats, red wing held the Australian record for towing 5 girls in a pyramid, and the famous tottam pole single skier with two people siting on shoulder on shoulder she could tow 7 girls on double ski,s, and 4 on single ski,s the boat was used at keepit lake and then later was bought buy billy mlystom, he and his wife started the coffs harbour ski club they had 15 ski boats , red wing was the first for the club, the club was based a mylstom, N,S,W the concrete pad of the club house still exists many days were spent on the water and they toured the west coast doing demonstrations backwards skiing, drunken skiing, jumping, eventually the boat was sold and was reenamed goana, apparently she went in too disuse and then started too rot away, and was fond buy roger horn, who restored the decks l, and it was sold, again, Charles Llamb fond her later in a shed in the blue mountains and took her home and fully restored her, and uses her nearly every weekend at the mylsotom river, N,S,W, Australia.