Model is hand-crafted from wood with planks on frame construction and then painted as the color of the real ship. Our model is built fully assembled and ready for display. The containers on the model might be vary due to our master craftsmen are random installed on the model.
We do custom make the ship with your company name and your logo on the ship. Please feel free to contact us at sales@gianhien.com for any further question.
Item Code

Specifications

Packing Volume

TK0083P

103L x 15W x 24H (cm)

40.55 L x 5.90W x 9.44H (inch)

0.15 m³ = 5.29 ft³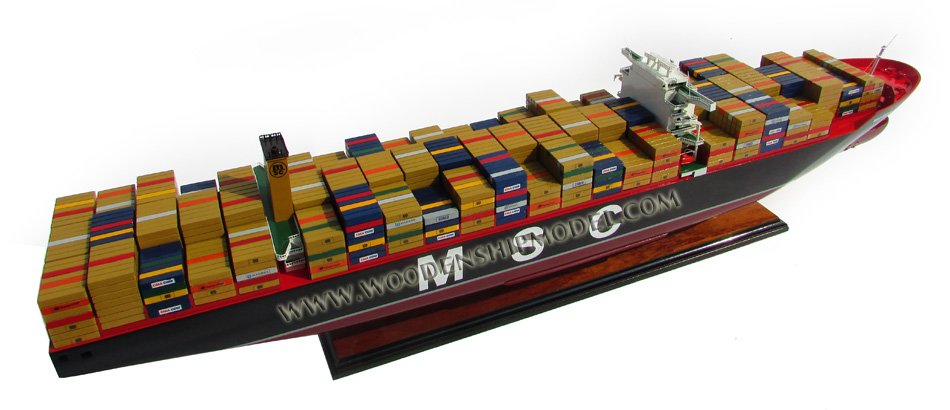 SHIP'S DATA
MSC Oscar, along with sister ships MSC Zoe and MSC Oliver, is the largest container ship in the world (as of August 2015). Christened on 8 January 2015, MSC Oscar assumed the title of the "largest container ship" from the CSCL Globe inaugurated in November 2014.

Name

MSC Oscar takes her name from the son of Diego Aponte, the Mediterranean Shipping Company (MSC) president and chief executive.

Construction

MSC Oscar was built by Daewoo in South Korea for $140m.

Number of containers

The ship was first planned for 18,400 TEU. Upon completion of construction the capacity was 19,224 TEU, including the capacity for 1,800 refrigerated containers. Since the deadweight tonnage of the ship is only 197,362 DWT it can only carry a full load of containers if each container has a mean mass no more than 10.2 tonnes. With the average container weighing 14 tonnes, the capacity is reduced to around 14,000 TEU.

MSC Oscar propulsion

The vessel's main engine is a two-stroke MAN B&W 11S90ME-C diesel engine, which has a height of 15.5 m (51 ft), a length of 25 m (82 ft) and a breadth of 11 m (36 ft). The engine has a maximum continuous rating of 62.5 MW (83,800 hp) at 82.2 rpm and a normal continuous rating of 56.25 MW (75,430 hp) at 79.4 rpm.

MSC Oscar Container ship model, model container ship MSC Oscar Container, MSC Oscar Container model ship, ship model MSC Oscar Container, cma container model ship, ship model MSC Oscar Container, wooden ship model MSC Oscar Container, MSC Oscar Container ship model, hand-made MSC Oscar Container ship model, hand-crafted MSC Oscar Container ship, MSC Oscar Container ship model, MSC Oscar Container TRIPLE E CLASS, CONTAINER SHIP, GENERAL heavy lift CONTAINER SHIP WITH CRANES