HISTORY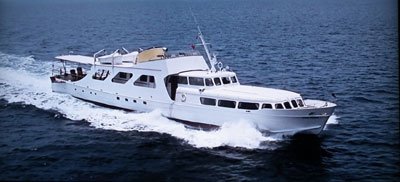 The story of the Disco Volante, Mr. Largo´s ship in the fourth Bond movie.

Thunderball, the fourth James Bond film starring Sean Connery was a huge success already in its opening year 1965 and is, to date, the most financially successful movie in the series. (Adjusting for inflation the movie had made $966.4 million in 2008 currency).

Mr. Largo´s ship Disco Volante plays an important role in Thunderball. A recent viewing of the beautifully restored blu-ray version of the movie, made me curious about the ship´s story.

The real craft used in the film was a hydrofoil ferry, The Flying Fish, built by Rodriquez Cantieri Navali, who had built the first successful one at Freccia del Sole. The "cocoon" was built on set. It was purchased for the film for $500,000 and brought from Puerto Rico to Miami for refitting and refurbishment. The hydrofoil never sailed again after the filming. It was rented as a stationary houseboat, docked at a marina on Miami's MacArthur Causeway, until it sank at the dock in the early 1980s.