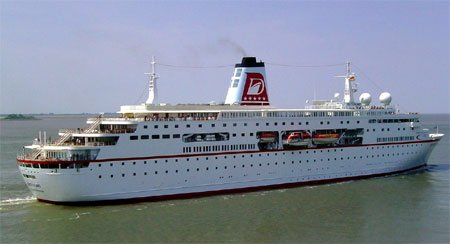 MS Deutschland is a German-registered cruise ship owned and operated by Peter Deilmann Cruises. She is decorated in the Art Deco style made famous by such classic ocean liners as the SS Ile de France and SS Normandie. The Deutschland was launched in 1998. She carries 513 passengers and 260 crew members. She has a gross tonnage of 22,400 and has seven passenger accessible decks.

The German television show Das Traumschiff (The Dream Ship), which is similar to the US-made show The Love Boat, is set aboard the Deutschland.

Air France Flight 4590, a New York City-bound Concorde charter flight carrying passengers for the Deutschland for a 16-day cruise to South America, crashed on takeoff in Paris in 2000 without survivors.

On May 23, 2010 when the ship was at quay in Eidfjord in Norway it was reported that a fire had broken out in the engine room. The 608 passengers were evacuated and the fire in the ship was isolated to a limited area of the ship because of fire doors.

The German Olympic Committee used the Deutschland as a hospitality ship during the 2012 Summer Olympics in London.