HISTORY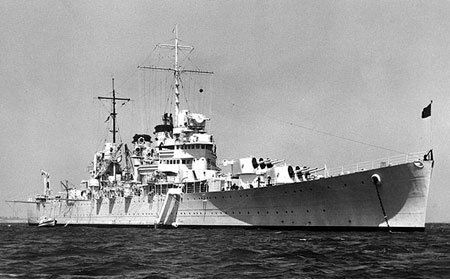 The ARA General Belgrano was an Argentine Navy light cruiser in service from 1951 until 1982. Formerly the USS Phoenix, she saw action in the Pacific theater of World War II before being sold to Argentina. After almost 31 years of service, she was sunk during the Falklands War (Spanish: Guerra de las Malvinas) by the Royal Navy submarine Conqueror with the loss of 323 lives. Losses from the Belgrano totalled just over half of Argentine deaths in the Falklands War.

She is the only ship ever to have been sunk in anger by a nuclear-powered submarine and the second sunk in action by any type of submarine since World War II, the first being the Indian frigate INS Khukri by the Pakistani Hangor during the 1971 Indo-Pakistani War.

The vessel was the second to have been named after the Argentine founding father Manuel Belgrano (1770–1820). The first vessel was a 7,069-ton armoured cruiser completed in 1899.
Aftermath
The area where the Belgrano sank is classified as a War Grave under Argentine Congress Law 25.546. In 1994, the Argentine government conceded that the sinking of the Belgrano was "a legal act of war". In 1999, Sir Michael Boyce, First Sea Lord of the Royal Navy, visited the Puerto Belgrano naval base and paid tribute to those who died. In 2003 a search team aboard the Seacor Lenga, crewed by Argentine and British veterans, was sponsored by National Geographic to find the sunken cruiser but failed to locate the ship.

Belgrano's captain, Héctor Bonzo, died on 22 April 2009, aged 76. He had spent his last years working for an association called Amigos del Crucero General Belgrano (Friends of the Cruiser General Belgrano) whose purpose was to help those affected by the sinking. Captain Bonzo also wrote his memories about the sinking in the book 1093 Tripulantes del Crucero ARA General Belgrano, published in 1991.

In late 2011, David Thorp, a former military intelligence officer who led the signals intercept team aboard HMS Intrepid, released the book The Silent Listener detailing the role of intelligence in the Falklands War. The book revealed that despite the fact that the Belgrano was observed by the Conqueror sailing away from the Falklands at the time of the attack, it had actually been ordered to proceed to a rendezvous point within the Exclusion Zone, to engage in a pincer attack. A report prepared by Thorp for Thatcher several months after the incident stated the destination of the vessel was not to her home port as the Argentine Junta stated; the report was not released because the Prime Minister did not want to compromise British signals intelligence capabilities.